Posts for tag: tooth decay
By Advanced Dental Care
February 24, 2021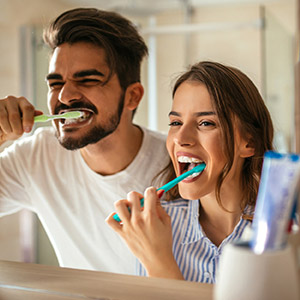 Tooth decay is a destructive disease that could rob you of your teeth. But it doesn't appear out of nowhere—a number of factors can make it more likely you'll get cavities.
But the good news is you can be proactive about many of these factors and greatly reduce your risk of tooth decay. Here are a few questions to ask yourself to point you in the right direction for preventing this destructive disease.
Do you brush and floss every day? A daily habit of brushing and flossing removes buildup of dental plaque, a bacterial film on teeth that's the top cause for tooth decay and periodontal (gum) disease. Hit or miss hygiene, though, can greatly increase your risk for developing a cavity.
Do you use fluoride? This naturally occurring chemical has been proven to strengthen tooth enamel against decay. Many locations add fluoride to drinking water—if your area doesn't or you want to boost your fluoride intake, use toothpastes, mouthrinses or other hygiene products containing fluoride.
Do you smoke? The nicotine in tobacco constricts blood vessels in the mouth so that they provide less nutrients and antibodies to the teeth and gums. Your mouth can't fight off infection as well as it could, increasing your risk of dental diseases like tooth decay.
Do you have dry mouth? This isn't the occasional bout of "cotton mouth," but a chronic condition in which the mouth doesn't produce enough saliva. Saliva neutralizes mouth acid, so less of it increases your risk for decay. Chronic dry mouth can be caused by medications or other underlying conditions.
Do you snack a lot between meals? Sugary snacks, sodas or energy drinks can increase oral bacteria and acidity that foster tooth decay. If you're snacking frequently between meals, your saliva's acid neutralizing efforts may be overwhelmed. Coordinate snacking with mealtimes to boost acid buffering.
You can address many of these questions simply by adopting a daily habit of brushing and flossing, regular dental cleanings and checkups, and eating a healthy, "tooth-friendly" diet. By reducing the risk factors for decay, you can avoid cavities and preserve your teeth.
If you would like more information on preventing tooth decay, please contact us or schedule an appointment for a consultation. You can also learn more about this topic by reading the Dear Doctor magazine article "Tooth Decay: How to Assess Your Risk."
By Advanced Dental Care
November 25, 2020
For over a century dentists treated tooth decay by removing both diseased portions of the tooth and healthy structure deemed at risk for future decay. In the 1970s, though, a new approach emerged, known as Minimally Invasive Dentistry (MID). This practice protocol attempts to preserve as much of the healthy structure as possible.
Before MID, dentists followed a decay treatment protocol developed in the 19th Century. A part of this became known as extension for prevention calling for dentists to remove healthy structure considered vulnerable to decay. Besides reducing the tooth's volume, this practice also resulted in, by today's standards, larger than necessary fillings.
It was thought that removing this additional material would make it easier to clean bacterial plaque, the source of decay, but later, research showed the practice couldn't guarantee the teeth wouldn't be reinfected.
Since then we've learned a lot more about teeth and have developed new ways to detect decay at earlier stages. X-ray imaging, for example, has transitioned largely from film to digital technology, providing more detailed images at greater magnification. This, along with laser fluorescence and infrared cameras, has made it easier to detect the first tiny stages of decay.
We can also limit tooth decay damage by boosting enamel strength with fluoride applications and sealants or reducing decay-causing bacteria with anti-bacterial rinses. We've also seen advancement in techniques like air abrasion that remove decayed tooth material while leaving more healthy structure intact better than using a traditional dental drill.
Restoring teeth after treatment has also improved. While dental metal amalgam is still used for some fillings, the main choice is now composite resin. These new tooth-colored dental materials require less tooth preparation (and thus less material loss) and bond well to the remaining structure, resulting in a stronger tooth.
Following a MID protocol leads to less intervention and less time in the dentist's chair. It also means preserving more of a natural tooth, an important aim in promoting long-lasting dental health.
If you would like more information on minimally invasive dentistry, please contact us or schedule an appointment for a consultation.
By Advanced Dental Care
September 26, 2020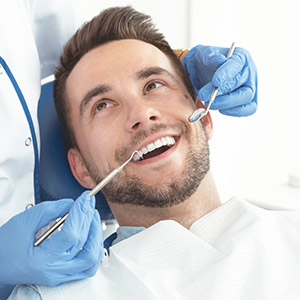 Tooth decay is more prevalent than diseases like cancer, heart disease or influenza. It doesn't have to be—brushing with fluoride toothpaste, flossing, less dietary sugar and regular dental cleanings can lower the risk of this harmful disease.
Hygiene, diet and dental care work because they interrupt the disease process at various points. Daily hygiene and regular dental cleanings remove dental plaque where oral bacteria flourish. Reducing sugar eliminates one of bacteria's feeding sources. With less bacteria, there's less oral acid to erode enamel.
But as good as these methods work, we can now take the fight against tooth decay a step further. We can formulate a prevention strategy tailored to an individual patient that addresses risk factors for decay unique to them.
Poor saliva flow. One of the more important functions of this bodily fluid is to neutralize mouth acid produced by bacteria and released from food during eating. Saliva helps restore the mouth's ideal pH balance needed for optimum oral health. But if you have poor saliva flow, often because of medications, your mouth could be more acidic and thus more prone to decay.
Biofilm imbalance. The inside of your mouth is coated with an ultrathin biofilm made up of proteins, biochemicals and microorganisms. Normally, both beneficial and harmful bacteria reside together with the "good" bacteria having the edge. If the mouth becomes more acidic long-term, however, even the beneficial bacteria adapt and become more like their harmful counterparts.
Genetic factors. Researchers estimate that 40 to 50 hereditary genes can impact cavity development. Some of these genes could impact tooth formation or saliva gland anatomy, while others drive behaviors like a higher craving for sugar. A family history of tooth decay, especially when regular hygiene habits or diet don't seem to be a factor, could be an indicator that genes are influencing a person's dental health.
To determine if these or other factors could be driving a patient's higher risk for tooth decay, many dentists are now gathering more information about medications, family history or lifestyle habits. Using that information, they can introduce other measures for each patient that will lower their risk for tooth decay even more.
If you would like more information on reducing your risk of tooth decay, please contact us or schedule an appointment for a consultation. You can also learn more about this topic by reading the Dear Doctor magazine article "What Everyone Should Know About Tooth Decay."